It's important to keep children active and entertained when at home. TV is fine for an hour, but you don't want your kids to sit there bored for hours without any interactivity. The best option is to provide simple but creative arts and crafts for kids so they can learn and grow. They should also be unique, to encourage your children to make them, rather than giving them the same old coloring books. Hence, I will show you some arts and crafts for kids.
The following suggestions will assist you with tips on what to buy for your children so they can make these arts and crafts at home. Here are a few ideas to help you get started. And best of all, these arts and crafts for kids are simple so you only have to provide minimal supervision while you carry on with your own work! We've even provided a list of arts and crafts projects that kids can make too!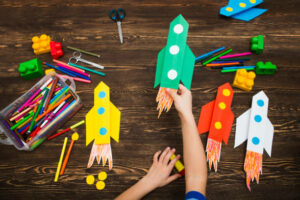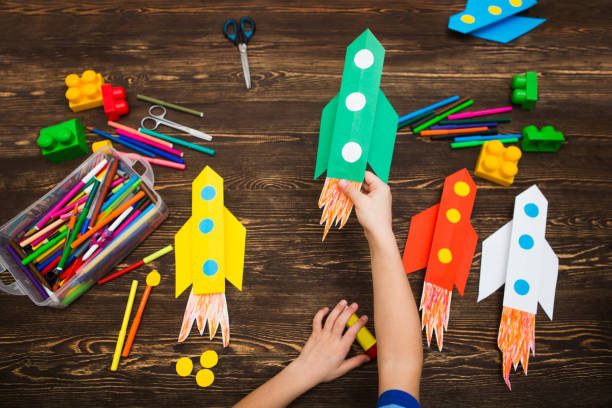 Basic Tips On Making Arts & Crafts
If you have young children around the ages of three to four years old, this will be the perfect time to introduce arts and crafts for kids to them. Arts and crafts is also fun for children of all ages. Many of the projects listed below can be adapted to older children. These are the preschool years before they have a chance to start school. Encouraging creative endeavours will help ready them for school so they are prepared. Arts and crafts for kids is also the best way to start their learning process, as it must be an activity that holds their interest (at least for 15 minutes!), and that they can admire in the future. (Place the art on the fridge on their desk!)
Encouraging creativity at a young age will encourage them in the future to continue. Creativity is linked to also creative thinking, exploration, and problem solving in all aspects of life, even if they don't grow up to be an artist.
It's also important to select creative projects that are more open-ended. If your child veers off of the project (drawing a dog on a spaceship instead of a doghouse), then run with it. Because you're trying to encourage their creativity after all!
When you choose arts and crafts for younger children, be sure that they're simple. You don't want a lot of complicated steps that take hours and hours. You need short projects that capture their shorter attention spans at this age.
Some of the best projects for young children are what is called "process art", and "science-like" projects.
Best Tips for Art for Preschoolers
Children aren't tidy so expect to have a mess on the table during and after the project is done. Cover the surfaces with recyclable paper, or have the kids do the projects outside on the picnic table.
Be sure to be clear on the intent of the project. Have a finished example to show them the outcome so they can get excited. Older children can be shown a photograph to recreate. Do allow them to explore on their own. Be clear that you're not expecting the exact same result. Let them add their own touches to the projects. Be there to provide help, but allow them to learn how to solve their own problems too.
Remember to keep the projects short. You want them to be eager to see the final result.
Fun List of Arts & Crafts That Your Kids Can Make
You may remember making arts and crafts when you were a child in preschool or kindergarten. But there are many more types of art supplies to buy today. We've created a list of some of the best ideas for kids to help everyone get started.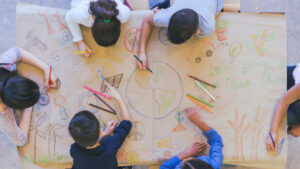 These can be made from reusable items from around the home. Your kids can start with a small branch from outside that's painted, with a string hanger attached. Small objects are hung in a row from the branch. Some suggestions include: keys (great for wind chimes), glass beads, broken jewellery, old spoons, and more! Consider items that will make a chiming sound when hung outside in the wind.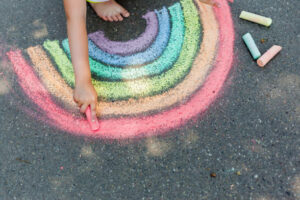 This starts with a paper plate cut in half and covered with cotton balls. A small bit of string is glued to the top for a hanger. Several strips of tissue paper in different colors are cut out, then glued to the back of the paper plate. This art project for kids can be taken one step further by adding beads.

Decorating clay flower pots can be fun, but it can also be a time-consuming process for young children. The next best option is to paint with a much quicker process. Have your children flip the pot upside down and place over newspaper. You may want to have them do this project outdoors. They can start by pouring paint onto the bottom part of the pot. This will slowly drip down over the pot. Eight to ten different colors can be poured after that. This will create a wonderful and unique effect on the pot.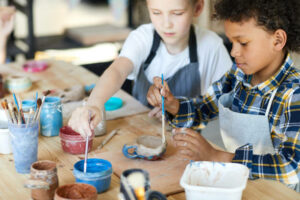 These require a minimum of materials which can mostly be from recycled items from around the home. You need to set aside tin cans, ensuring the cans are washed and dried. Children can paint the cans in different colors. With supervision, string can be added at the top, and decorating paper strips and ribbon to dangle from the bottom. Once dry, they can be hung up as decorations.
5. Bright Pennant Bunting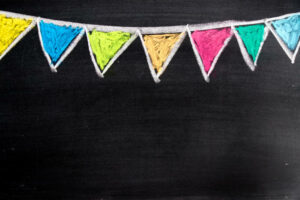 This can easily be put together with string and paper. Several strips of paper can be cut out in a diamond shape. These pages can be water colored by your child. Once the paper is dry, it's folded in half and glued together covering the string. The string should be inserted at the top of each folded triangle. The bunting can be hung up inside, or outside on the patio.
You can buy clothes pins from the dollar store, along with different colors of craft foam and glue. Provide a basic drawing to your child so they can see what the airplane will look like when done. Encourage them to make the planes in different colors, and maybe to even add more embellishments, such as stickers or beads!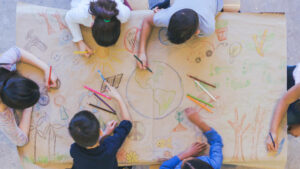 Microwavable puffy paint is used to draw out fun shapes onto paper. This is inserted into the microwave and heated as per the instructions. When done, the items are allowed to dry. They can then be removed from the paper and placed onto the desk for admiration.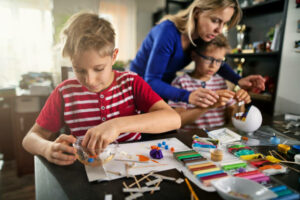 You'll want to use a non-toxic paint for this. Choose about three different colors of paint. Use the base of the salad spinner to draw out the right size of circles onto paper. Have your child cut out several different circles so they can make more than one. Drop the paper inside the salad spinner, then add several drops of different colored paint. Put the lid on, then turn the handle several times. Remove the lid and paper. Your child now has some amazing and unique salad spinner art!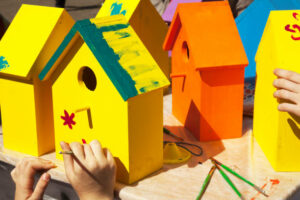 Your child can use recycled materials to make this DIY birdhouse from cardboard, a small box, magazine pages, and an old wooden spoon. The roof can be added to the box first. With your assistance, you can trim an opening for the birds and insert the spoon. Your child can cut several different clippings from colorful paper, then glue them onto the birdhouse. A string at the top will be the final touch. This can be hung up in the backyard, preferably in a spot that is out of the rain.
10. Magic Wand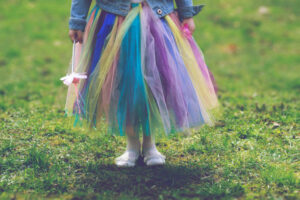 Have your children create a magic wand with craft foam, a straw, ribbon, and sponge. Let them choose their own colors and add a heart over a star at the very top. Now they not only have created art, but also have a fun wand to play with!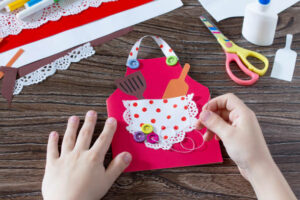 Who doesn't have tons of buttons laying around? Start by drawing a tree trunk with branches onto the paper. Then add buttons of various sizes as blossoms to the tree. When this art is done it can be framed and added to the wall.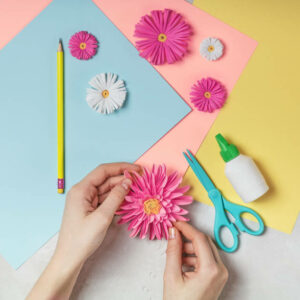 Paper flowers can be created in a wide range of colors and types. Start by showing your child a basic shape. This will give them even more ideas. Don't forget to add a green wire stem and a small button in the center of each one. Once a full bouquet is done it can be placed inside a small glass vase.
We hope that these tips and suggested projects provide some valuable activities for your children. Start slow to see how they react to the arts and crafts for kids. As their crafting abilities evolve, you can add even more fun projects to their daily schedule! It will be a great achievement to just provide a photograph or finished example to your child and leave them to it. This is one of the best skills for them to have – the ability to recreate art with their own creativity! Nurturing children can be fun and rewarding for both parents and children alike through arts and crafts for kids!