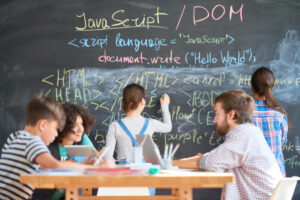 Picking the best coding classes for kids NYC from dozens of shortlists can be overwhelming. But we'll go through all the ratings, recommend articles and coding courses in person, and pick (in Frank Sinatra's words) the "one-of-a-kind" coding course in New York for you!
Then I will introduce you some courses.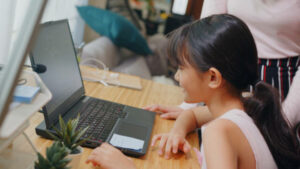 The #1 Coding Platform for Kids: Our interactive story-based learning lets kids learn the basics through simple block-based coding, then seamlessly transition to real-world text languages like JavaScript and Python.
Course Features: Structure Construction: Understand and master the movement control mechanisms of characters and backgrounds. Make simple games and animations. Block-based Programming: Beginner-friendly to use scratch modules and develop more complex logic to control the scratch role to foster divergent thinking ability. Data Analysis: Able to use the python programming language to complete programming for small problems and develop the ability to find, analyze, and solve problems.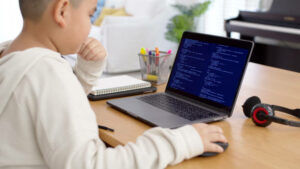 General Assembly has campuses all over the world, and New York is where it all started. General Assembly (aka GA as many refer to it), in the middle of the Flatiron neighbourhood, offers all classes on coding. Students can choose immersion courses in software engineering and data science, or part-time courses in front-end web development and JavaScript development. Most immersion programs, those taught full-time by real people, start around $3,000.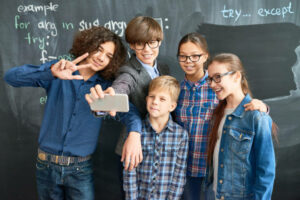 Full Stack, which offers immersion software engineering courses and summer coding courses, also offers scholarships to study web development in New York, and is another great option. The course here focuses on teaching fullstack JavaScript and costs $17,910 in New York and $15,910 in Chicago, including a $1,000 scholarship for women. A new round of courses starts every month or every two months, and the application deadline is roughly one month before the start of the course.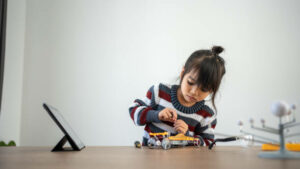 Hack Reactor offers a variety of options for part-time, full-time, live teaching, and online courses. The company is rated as one of the best options for students by Course Report and switchup. The company is headquartered in San Francisco and has campuses all over the United States in addition to New York. If you are worried about keeping your pets in the classroom during class At home, you don't have to worry at all here – because the campus welcomes puppies. One of the most outstanding advantages about Hack Reactor is that in addition to teaching students how to code, it also focuses on teaching students how to think like programmers.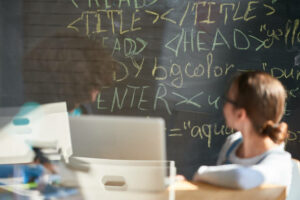 App Academy takes an interesting approach to charging: they only charge you after you've been hired as a developer. They select students based on their abilities, and if you don't find a suitable job, the company will pay you at least $50,000 in compensation, and you'll need to put down a $3,000 refundable deposit. Classes will be taught by tech companies and industry experts, and tend to be more career-focused in general.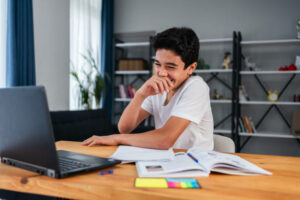 Unlike some of the other companies on this list, Codesmith makes it clear where they stand: focusing on software engineering. Their coding bootcamp is highly rated by Quora, Course Report, and Switch Up. Focusing on the entire package, from front-end to back-end, Codesmith teaches students JavaScript, including a 12-week fullstack and React tutorial. Interested students can visit the campus, and the latest course dates can be found on Codesmith's website.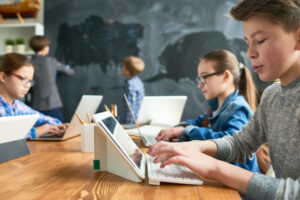 Flatiron School offers coding courses that combine classic online classes with on-campus learning. Flatiron has campuses in several major cities around the world, one of which is New York City, thanks to a partnership with WeWork to share space.
The company offers courses that cover everything from data science to design, but at its core is software engineering. Students can choose from a number of courses that focus on basics like HTML and CSS, as well as more advanced courses in Python and JavaScript.
Although Flatiron's tuition is high. But be aware that they offer some scholarships, and there are even scholarships for women. If you want to learn more, talk to them online or take part in their free pre-coding bootcamp classes to see if their learning style is right for you.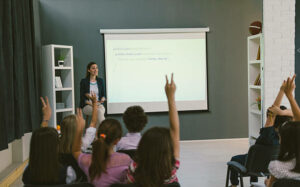 Since 1990, Noble Desktop has billed itself as a top design and coding school in New York, offering coding and design courses. One of the great things about Noble Desktop is that there are so many courses to choose from, from websites and graphics to interfaces, videos, iOS apps and animations.
When it comes to coding courses, novice programmers can get everything they want here: courses on HTML, CSS, and JavaScript. The company also offers boot camps covering all the basics of HTML and CSS, as well as courses in Ruby on Rails, WordPress, and Python. For those interested in SQL programming, they also offer bootcamp courses.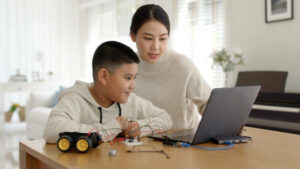 Most coding classes in New York are based in Manhattan, but not all of them are. Queens Tech Academy has opened a new part-time coding bootcamp, and it's in a different location than ever before, right in—yes, right in Queens.
When it comes to learning to code, they say it allows you to "don't have to give up your day job". While their courses may not be as robust as other companies, there are two of them: one for web development and one for iOS mobile development. Each class has 12 sessions and costs $3,000 per person, and you'll get weekly homework and dedicated teacher tutoring, as well as the opportunity to attend seminars.
Insights about coding classes in NYC
At  One Month , we believe that everyone's approach to learning to code is unique, and you should find what works best for you, not what others recommend. This article can be your primer on your research on coding courses in New York City, and we'll be happy to answer any questions you may have. Just leave a comment below or contact our enthusiastic customer service staff!
If you're considering an immersion camp, the first thing that comes to your mind is to find some free coding courses online to get the basics down before going to an expensive boot camp.
Want to get the most out of your coding bootcamp?
Join One Month's HTML course and take a JavaScript course first. The good news is that you can enroll in our online courses in New York City or anywhere else in the world! If you have any questions about how to join, or want to know what's next after studying at One Month, we're here to help!