Kindergartners may be easy on the eyes but are mostly handful if not kept them busy, happy, and entertained. They like to be kept going, and that's admirable but can be challenging and exhausting for the parents; therefore, understanding the need of the parents and the kids themselves, we have made a list to facilitate both the parties through Kindergarten after school program and activities.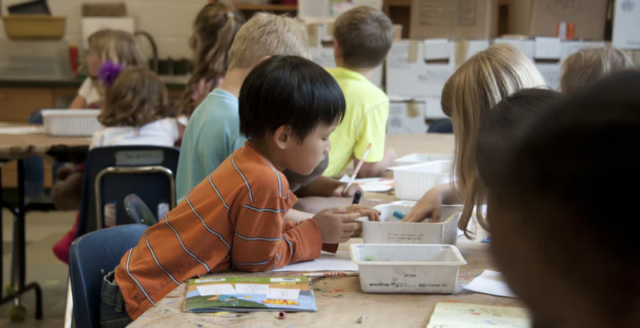 These programs and activities are diverse to cater to different interests of the little ones, ranging from fun activities to academic programs; the range is highly inclusive, productive, and entering, which helps the kids utilize their energy and channel it into something productive, progressive and directional. And not to mention, these activities on our list are excellent for developing and improving their cognitive skills, motor skills, language skills, physical, emotional, and mental wellbeing, among others.
Parents, get your notebooks ready and jot down the Kindergarten after school program and activities that might interest your kids; it will be beneficial for them and a good way to end the afternoon, and hey, if you got some energy, you could join in on the fun learning experience too.
Best Kindergarten After School Program & Activities 
After School Programs
CLASSOVER ONLINE CLASS
This after school program is designed to assist students with their academic learning and keep them one step ahead. With over 200 state-certified instructors and more than 20 subjects that you can mix n match with, Classover online program ensures seamless interactive learning and a promising outcome for children to grow and excel. From generic courses to specialized ones, Classover is indeed a great way to ensure children will  be able to thrive in this competitive world.
Classover is now offering 2 FREE trial lessons!
Sign up HERE
92ND STREET Y
This all-rounder kindergarten after school program offers numerous activities such as dancing, swimming, cooking, pottery, music, and more. The enrolled students are divided into Clubhouses based on their grades, which fosters a sense of community, collaboration as they get assistance for their fellows and the instructors with their homework and the extra-curricular activity that they choose for. It's a great program for their social and academic development; in fact, at the end of the program, show choirs, talent shows, and competitions are organized for the students to display what they learned throughout the program.
Learn More Here
JCC MANHATTAN
This is a more traditional kindergarten after school program/activity. Done onsite and online, this program/workshop helps the kids with their homework. It also offers extra-curricular activities that range from Kwon do to gymnastics to swimming to dance, ballet and hip-hop for dancers, and even a variety of mini STEM classes. This well-rounded program has dedicated sessions and activities to cater to every kid and help them find something they like so that they could channel their energy towards something productive. And the best part, they keep children full too with delicious snacks to munch on.
Learn More Here
After School Activities
SCAVENGER HUNT
One of the most engaging and entraining activities that encourage kids to use their mental skills while being physically active. Scavenger hunts can be done at home, outdoors, in parks, and literally anywhere; it's a great play date activity that keeps them busy in something fun and productive. Just hide objects all over the place, give them clues, a map, and relax as they search through the area and get their Sherlock Holmes detective mode on.
PAINT OBJECTS FROM NATURE
An inexpensive and quiet fun way to get the kids' creative juices flowing as art itself can be so powerful and helpful in not only challenging kids but assisting them in refining their skills and wellbeing. Kids choosing different objects from outside on their own and painting them to create something unique allows channeling their energy towards something engaging, exciting, and potentially opening various possibilities.
BAKING
Kids love creating/cooking edible things, and baking is by far the most promising cooking method that is ideal for them as it's entertaining, comparatively easy, and ensures the end product is definitely going to be a fan favorite. Cookies and pizza are the most interactive baking projects that are highly appealing to the kids and put food on the table for supper.
And those who don't have time to assist their kids in the baking activity can enroll them in The Dynamite Shop, a kindergarten after school program designed to cater to kids with and without passion for food but definite salivating palettes. Taught online and offline, this program is very insightful and proven to be successful amongst the kids in the present and their future endeavors.
STORYTELLING
Children are by nature very creative souls, and if channeled that creativity well, can help in their advancement, refining of the skills, and can help with their academic and personal development. Whether done the traditional way of writing on paper or performing it, this activity can be done in many ways. Either give them a scenario to work with, or play mad libs, or let them choose something entirely on their own, but allow them to choose the direction they want to proceed in but make sure they provide as many details as possible and a picture to go along with their story. A one-liner or a detailed paragraph shows that this activity is interesting, entertaining and helps the kids open up while allowing parents to understand their kids even better.
MAKING CLOUD DOUGH
Scientific experiments are always engaging and grab children's attention instantly; they help with cognitive and motor skills. And the best thing they don't have to be extensive or dangerous, just like cabbage color experiment, slime making, or the best of all, making Cloud Dough. Making cloud dough is a sensory activity that the kids adore, as it allows being in control, making something extraordinary from 3 boring ingredients. They can even refine it even further by adding elements like color, glitter, and more; it is ideal for children who love to create and explore and great for parents as it is safe, academically inclined, and not too messy.
We hope the list helped and you find something exciting for your kids or gave you an idea of which direction you would want to go with your child's Kindergarten after school program and activity.
All the best, and May your kids have a fun, excelling learning experience.