Why promote online guitar lessons for kids right now and why you deserve them. It's all about learning on your own, with tracking, coaching and company. However, the guidance and companionship are teachers and classmates at the remote end of the network. You seem to have a teacher or not, and you mainly have to rely on your own consciousness, drive and initiative to learn.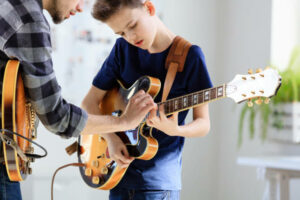 The content of the course encourages students to draw inferences, to think actively, to think outside the box, to grasp the key principles and ideas behind music, not only to teach you how to play, but also to understand as much as possible why you play it. Lay a good foundation for the long-term development of students' musical literacy.
Group activity. The group often held homework practice competition, singing competition and other activities, rich prizes. Students will also be given some performance tickets, teachers carefully arranged music playlists, souvenirs and other benefits.
The tuition is very cost-effective, only a fraction of the offline training tuition, and in the group, I can also meet a lot of friends from all over the world who love guitar, exchange and learn from each other. Many of my students have said that even though I was sitting alone in my bedroom with my guitar, I felt like I was with all my classmates.
And here I will introduce some excellent places to learn how to play the guitar.
1. Classover Guitar Courses
Course website: https://classover.com/en/guitar/

Price: Depends
Course Introduction:
The #1 Guitar Lessons for Kids: Classover guitar lessons are designed to customize personalized teaching content for every child. The whole course will be one-to-one online private lessons with professional guitar teachers.
The biggest feature is the system. There are several series of courses for beginners,  as well as a special strumming course, and a new electric guitar course. There is a series of songs that can be played with two chords. It is very suitable for beginners to cultivate interest and build confidence.
This course is great for beginners, you don't need to know anything about music or guitar playing to get started. The course has five parts:
Getting Started – some basic information, identifying string names, a few chords, reading tablature, using the metronome;
Fingerstyle Basics – Background, general rules, and several fingerstyle modes of how fingerstyle works;
Thumbs – The key to getting the "dual guitar effect" is to let the thumbs do the work of the bass player; alternating bass, walking bass, more fingerstyle patterns;
Fingers – add more advanced patterns for right fingers, pinch, different sequence lengths and write your own fingerstyle patterns;
Advanced – Clear categorization of advanced techniques like Travis Picking and Clawhammer.
Each section has 5-7 separate lessons with homework exercises after each lesson. After the course, you will be able to
Play the most common guitar chords in a fingerstyle style;
Learn how to break down a fingerstyle pattern into bass/thumb and melody/finger
how to practice building components;
Read the fingering and play along with the metronome.
2. Master Guitar In 90 Days: Step-By-Step Lessons For Beginners
Course website: https://www.udemy.com/course/rockstar-guitar-90-day-challenge/

Price: $12.98
Course Introduction:
This course provides introductory guitar lessons for students who want to learn guitar from scratch and move quickly to the intermediate and advanced levels. Lessons will not only cover chords, scales, solos, power chords, fingerpicking, strumming, rhythms and more, but will continue to add practical and engaging song examples to your song repertoire, from classic rock to country, blues, modern, alternative etc. to keep it fun. Throughout the course, you will receive in-depth daily guitar lessons from a team of 8 different teachers, each bringing their own personal insights and experiences to the table. Additionally, you'll get a practice guide that outlines the material to practice each day after the course.
This course is an accelerated 90-day course that will take you from barely able to play the air guitar to having a well-rounded and versatile skill set across many musical genres! This course is for beginner guitarists who need direct and methodical instruction from a team of expert teachers. Starts with the basics and walks you through all the important techniques and techniques you need to play any rock, blues, country, jazz, hip-hop, bluegrass, metal, indie, modern or alternative song. Along the way, lessons will cover an incredible repertoire of iconic songs to help keep the lessons engaging and relevant.
3. Learn Guitar in 21 Days



Course website: https://www.udemy.com/course/learn-guitar-in-21-days/

Price: Free!
Course Introduction:
As the name suggests, this online guitar course will let you play your favorite songs in just 21 days! Broken down into bite-sized daily lessons, this is perfect for those who want a simple and organized guitar learning program. The instructor for this course will come from video education company Trust Fire, which has produced over 25,000 interactive guitar lessons and taught over 1 million students and counting! Some of the many lessons included in this 21-day program include modules on holding the guitar, first tuning, simple chords, strumming, 3-chord songs, repetition techniques, and more!
4. Guitar for Beginners
Course website: https://en.coursera.org/learn/guitar

Price: Free!
Course Introduction:
For students who have long wanted to learn acoustic or electric guitar, this course will give you an easy-to-use foundation to play. When learning guitar for the first time, it's important to have the material presented in stages that allow you to master the fundamentals of the instrument and music in an enjoyable way. Lessons begin with guitar parts, string names, tunings, and techniques—whether it's finger strumming or picking. Then explore the fundamentals of music theory through topics such as scales, triads, power chords, and fingering and shapes.
By the end of this course, you will have an understanding of the instrument's construction, parts and accessories, as well as an understanding of its basic maintenance. Electric guitar players will learn the operation of their instrument as well as basic options for amplification, effects pedals and sounds. You will also learn to develop proper technique and apply theoretical concepts to their performances. They will have the basic knowledge needed to learn most intermediate guitar lessons.
5. How to Play Guitar
Course website: https://en.coursera.org/specializations/play-guitar

Price: Free!
Course Introduction:
Have you always wanted to play guitar but didn't know where to start? Whether you're picking up a guitar for the first time or just looking to improve your skills, the Guitar Skills Specialization course created by Berklee College of Music will help you practice the skills you need to take your playing to the next level. In this 16-week specialization, you'll develop a solid foundation by studying and practicing major, minor, and pentatonic scales, as well as triads and chords. You'll also practice improvising, composing melodies and compositions, and playing sheet music. By the end of this major, you will have acquired the skill and confidence to play your favorite songs in front of an audience.
Throughout the specialization, you will practice and perform a variety of guitar techniques and skills, including scales, chords, strumming and plucking. You'll practice new skills up and down the guitar neck and in different positions. You'll also read sheet music using fingering and notation, and play rhythm and melody lines.
6.

Beginner Guitar Masterclass



Course website: https://www.skillshare.com/classes/Beginner-Guitar-Masterclass-2022-Update/419248343

Price: One month free trial for new users !
Course Introduction:
This guitar course will teach you everything you need to know from start to finish. So, it's a great starting point for those who want to take a beginner's course in guitar and move on to a more advanced approach. Classes will be taught by expert instructor Henry Olsen, who has 16 years of accomplished guitar playing experience and over 6 years as a teacher. His YouTube guitar channel also has over 14,000 subscribers and his courses are highly rated.
This course covers a total of 111 different course modules covering over 8 hours of on-demand video lessons. Some of the highlights covered include guitar tunings, chords, strumming patterns, tabs, palm mutes, blues, capos, amps, picks, slideshows, and more! With dozens of lessons left, Henry will teach you step-by-step how to play some of your favorite songs. Since this course is hosted on Skillshare, new users can take this guitar course for free with a 1-month free trial.
7. Guitar Fundamentals: Learn Quick with Mike Boyd



Course website: https://www.skillshare.com/classes/Guitar-Fundamentals-Learn-Quick-with-Mike-Boyd/2094242763

Price: One month free trial for new users !
Course Introduction:
Guitar Fundamentals This guitar course will teach you all the basics, from guitar shapes, frets and some basic chords, so you can start playing right away. So if you're a complete beginner and want to start playing songs on your guitar right away, this is an excellent place to start! This class is taught by popular YouTube instructor Mike Boyd, who has helped over 10,000 students, is considered one of the best guitar teachers on the internet, and his methods are easy to understand and follow.
This course has a total of 1 ¼ hours of on-demand video instruction, including beginner modules covering guitar anatomy, guitar tuning, chord diagrams, E, D, AG, and C chords, strumming, and rhythm. After you complete all of these lessons, Mike will walk you through how to play Sweet Home Alabama and Wild Thing based on what you've learned. In this lesson, there are also printable chord tables and downloadable links to A/V files for listening to chords.
8. The most detailed zero-based guitar lesson: 30-day introductory guitar playing and singing



Course website: https://vip.open.163.com/courses/3D5D2D8560BF4F36F959E5E95D05D34D/

price:¥99
Course Introduction:
Aiya Music specially invited Mr. Xu You, a senior music producer who used to be the guitarist of Dou Wei Band, to carefully produce this set of [ A systematic and comprehensive guitar introductory course comparable to a music school, but more suitable for ordinary music lovers. I disassemble the problems encountered by every beginner guitarist, and strive to make the students who learn guitar avoid detours, master the skills of guitar playing, and fully experience the joy of playing the guitar~
This course has a total of 37 class hours, consisting of: 7 class hours of super practical [Extras] + 30 class hours of [system courses] full of dry goods. From the explanation of the most standard movements and postures to the in-depth rhythm and music theory, to the mastery of chords/skills, and finally to "playing when you see the score", "improving the arrangement without the score", "making your own original guitar".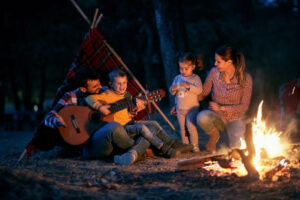 Hence, the 8 platforms to learn how to play the guitar has been introduced in details, and the online guitar lessons for kids is a common way to capture the knowledge. As long as you try it, you will get what you expect.