Who says that learning a language needed to be nothing but hard work? Sure, languages can be difficult and you definitely need to study them often, but that doesn't mean that you need to be doing grammar worksheets to learn Spanish. At Classover, we want you to have fun while learning Spanish, which is why we offer fun interactive lessons with live-teachers. Classover has over 200 state certified instructor teaching 20 different subjects for kids age 4-12.
Claim your free class today and see if your kids enjoy learning Spanish at Classover. (No credit card required) 
One of the best techniques to learn Spanish is to be actively using the language and that can be in a variety of different ways. You can get a conversation partner, you can travel to a Spanish-speaking country, the options are limitless. But one of the best methods to learn Spanish is by playing Spanish learning games.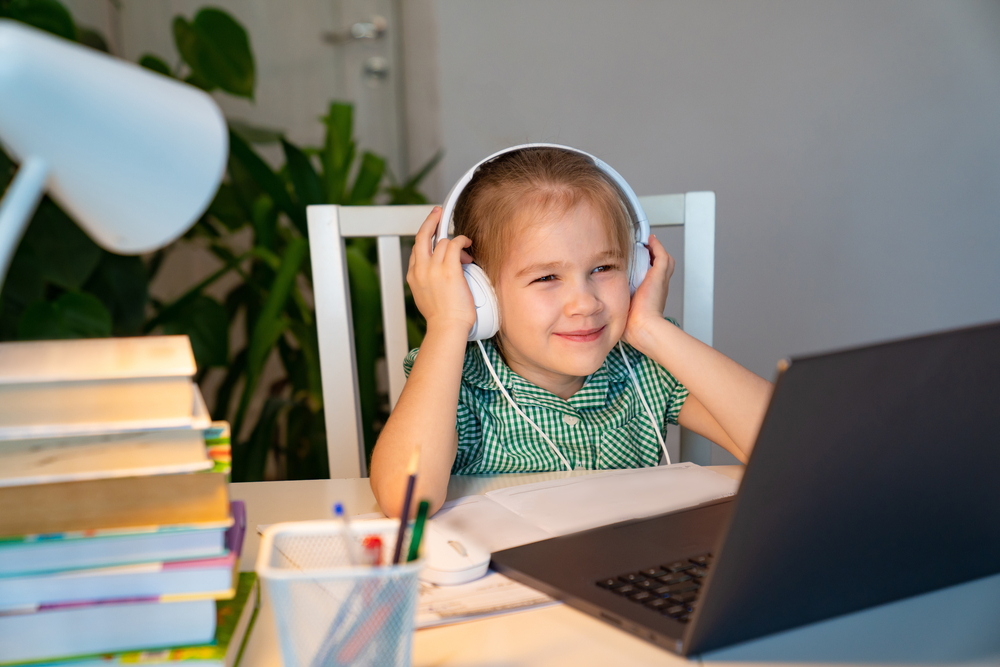 Spanish learning games are enjoyable and effective, so you won't even notice that you're learning. So to help you out, here's a list of our top 6 Spanish learning games and websites to help you start becoming fluent without staring at a textbook.
Top 6 Resources for Spanish Learning Games
| | | |
| --- | --- | --- |
| # | Website | Spanish Level |
| 1 | profedeele.es | A1 – B2 |
| 2 | PBSkids Spanish Games | A1 – B1 |
| 3 | Spanishuno.com Conjugation Games | A1 – A2 |
| 4. | Profe-de-español.de | A1 – C2 |
| 5 | Digital Dialects Vocabulary Builder | B1 – B2 |
| 6 | Rockalingua | A1 – A2 |
This is one of the best resources for Spanish learners. Not only does this website offer free worksheets, materials, and grammar explanations, they also have several different free games to play, depending on your level.
For beginning students, they have a great interactive flashcard game to learn food and drinks, which is both easy to use and perfect for beginners.
They also have games for B2 students, like a song game where you have to work through the song to figure out different meanings and even work on tougher concepts like irony and gentrification. So this website has a little bit for everyone.
Highly recommended for children, this website has several free games that are great for kids just starting to learn a second language. You can play through different Dr. Seuss books in Spanish and play interesting games like classifying nouns, a crossroads game, and even a math game!
This website has the highest variety of games with plenty of creative and unique Spanish learning games to choose from. They can help with conjugation, vocabulary, grammar, and even with your pronunciation!
If you're unsure of which resource would be the most helpful, this is one of the best places to check out, since they have a range of different materials to help you master your Spanish skills.
So even though it's designed for kids, it's just difficult enough that it would be interesting for adults, too.
This website features by far the simplest game to play. It is very user-friendly and the game itself is very easy to play.  However, it's a great resource for beginners or for any Spanish learner who wants to improve their conjugation skills.
The best part of this game is that you can personalize the game yourself, so you only choose to work on the types of verbs that you're struggling with. So this game is highly recommended, especially for those who want something really simple that doesn't require you to be tech-savvy.
This website has some of the most complete sets of games for learners. The games range from incredibly simple to much more complex, perfect for both beginning and intermediate Spanish students.
They have a digital Escape Room and an online Monopoly-style game that you can play to review vocabulary. And for artsy people, they even have an online drawing game where you can learn grammar through drawing.
And if there are any Spanish teachers reading this who are looking for ideas, they also have a section of free resources for teachers to use in their classrooms.
For those of you just starting, this is another source for anyone who needs to work on their vocabulary. The best part about this game is that it's designed for intermediate learners.
This means that not only is the game itself a bit more tricky, but also you're bound to learn a ton of new vocabulary words that you never knew! That's why this is such a great resource. Plus, they also offer several vocabulary quizzes and other games on their website. So if you have a B1/B2 level, this is a great website to use if you want to break out of the routine and learn in a different way.
All of their Spanish vocabulary games have audio, too, which really helps with comprehension and retaining all the new words you'll learn.
Of course, no list would be complete without Rockalingua. It is by far the most well-known website dedicated to online Spanish learning games. It's great for A1 – A2 learners, so anyone who is just starting out will get a lot out of the games.
For each topic, you can choose the style of game you want. So you can play racing games, matching games, or memory games, for example. They have a lot of great free games to play, but for anyone who is willing to invest a bit in their education, there is also a ton of other Spanish learning games that are more complex and engaging.
Rockalingua uses a music-based theory, so all of the games are fun and engaging and are perfect for auditory learners.
Go on and practice
Learning languages through playing games, i.e, gamification, has been proven to be a highly effective way of studying. This is because you are actively participating in the production of the language and you're focused the whole time.
So instead of drooling over a textbook or getting frustrated at online worksheets, why not try something more fun? You can play these Spanish learning games in your free time and most of the resources can be played on your phone. You can also check out this guide on 《How to Teach Your Child Spanish》
The next time you're just sitting on your couch and procrastinating, go ahead and check out one of these Spanish learning games, so instead of wasting away your day, you can have some fun and improve your Spanish skills.