In this age, basic programming has become an important skill to learn for grown-ups as well as kids. With its enhancing demand, various apps, software, and guides have been launched that make the learning process even more complex for beginners. The main question about teaching kids to code arises that where to begin. Here are some of the authentic sources that will help you in teaching kids to code effectively.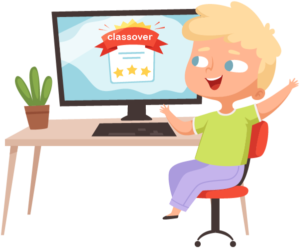 With over 200 state-certified instructor, Classover aim to provide the best in class online learning experience. For an affordable price to participate into the class, Classover can help cultivate children's coding skills while learning with peers in a safety environment. Classover's coding course is design for every level from beginners to advanced, and even of master level. From learning the basics of computer programming and animation to more complex computer science subjects, these lessons are the perfect jumping-off point for curious students.
Blockly contain puzzles and allows the kid to learn coding by connecting the code piece. Their main focus is on JavaScript. In this kids drag and drop various code blocks for completing different stories or sequences of code. It is mainly designed for kids of age 8 or above. It may sound difficult but it is an easy-to-understand game that can be played by any kid who knows how to read.
Codemoji contains interactive lessons and set tasks. The best thing it offers is that it allows the kids to learn the thing at their own pace. Their teaching process attracts me the most as they use images to teach the kids the things that need to learn. Coding is about solving problems, picking the ideas that can perfectly solve any issue. So kids don't need to be good at typing or spelling to learn and enjoy their programming journey. Learning how to code through emojis and images is fun, and challenging. Their designed activities are also very flexible. They make the kids feel confident and unshackled through image-based learning, and in this way, they can quickly pick up skills.
CodeMonkey provides educational game-based and full of learning and fun environment, which helps the kids to understand the concepts properly. In this, no previous knowledge about the coding world is required. It has various resources for the students of every grade and taught how to code in the real programming world. It contains self-guided challenges and learning real-coding languages, which helps the kids to move through this journey with a sense of confidence and accomplishment.
Code Combat teaches JavaScript and Python coding to kids through a role-playing game. It has various levels in which kids have to direct the main character through the "Dungeons of Kithgard" by writing the code. Through this, kids also learn creativity and critical thinking as this game is based on a trial-and-error approach. Every level is full of challenges and offers complex coding skills.
A powerful programming platform is known as "Hopscotch" is designed for kids of age 10 and above. It is about creating games and building almost anything. Kids can submit their work to the community through this. Hopscotch considers the code an amalgam of art and science. In this, kids are encouraged to express ideas and experiments. They taught them the power of thinking. Hopscotch encourages the kids to browse the creation of other users for getting new ideas for new projects. For them, the mistake is nothing but an opportunity to learn.